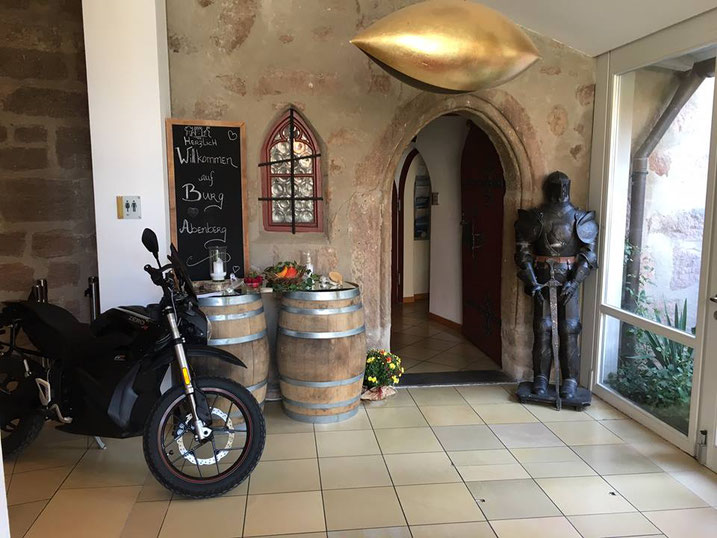 Fritjof, einer der Münchner Zero-Fahrer, hatte die Idee einen "Electric Castle Ride" durchzuführen. Hier die Infos dazu:
A year ago some of us had the brilliant idea of a "Castle Ride" in Germany. Well, now here is the event for this.
The basic idea is to come together with lots of electric motorcycle riders at an old castle, ride in a pack through breathtaking scenery and have a lot of fun visiting surrounding locations. 
This is a first "save the date" reminder, so you can block the date in your calendar. The details of this event will be elaborated according to the number of participants, range of our electric horses and of course scenery highlights and nearby charging stations (hopefully).
This is a 2-day event. So we will not only ride together, but also have the ability to get to know each other, exchange knowledge about our motorcylces, talk about the electric future and life itself. 
Overall this event is your chance to meet the riders you usually only know virtual from Facebook. 
Location:
The Location of the event will be the "Altmühltal" in Germany. The Altmühltal is a big area near Nuremberg. It´s well known for beautiful scenery and its old numerous castles.
Who can participate?
Everyone with an electric motorcycle which is cacable of doing 80 km/h  and has at least a range of 80km. 
The event will be updated soon with more details.
Take care & ride safe
Fritjof
Termin: 9. – 10. Juni 
Ort: Altmühltal (nähere Infos folgen)
Teilnehmer: Bisher haben 11 Fahrer zugesagt, einige davon aus Holland (irgendwie hat das Europa Headquarter von Zero einen positiven Einfluss ;-))
Wer teilnehmen will aber kein Facebook nutzt und hier nicht hinkommt, kann mir eine Nachricht hinterlassen, ich leite die Info dann an Fritjof weiter. 
----------------------- Update von Fritjof vom 11.5. ------------------
Hello everybody,
I hope you are all doing fine and enjoy that the weather gets better every day. Here is the long-awaited update for the Castle Ride event.
This update includes information about how you can register for the event and what overnight accommodations are available. 
First, let me summarize again the basic information for this special event.
When? 
09th.June – 10th. June (yes, it´s a 2-day event, one day is not enough for so much action)
Where?
The meeting point and the origin for all activities during the event will be the castle "Burg Abenberg" which is located near Nürnberg. Surprisingly it also serves as a 4-star hotel.
It´s a 2-day event. Where can I stay at night?
Well, there are many possibilities where you can stay the night.
a. Stay at the castle hotel
b. Stay at the nearby camping-site
c. Stay at another hotel nearby
d. Stay at home, if you are living nearby
Those who choose choice no b-d are on there own to arrange something. All those who want to stay at the castle hotel have to follow a certain procedure.
Since the event date 9.6. -10.06 is a public holiday in Germany you can guess that the castle is a highly recommended destination for many people. That's why I have reserved all available rooms long beforehand for our event. However, room capacity is limited.
Therefore I think it´s only fair that rooms are handed over in the order that riders have registered to this event.
This is a good process to make sure that all who have already registered benefit from their early registration.
What are the next steps?
Check for these 3 steps if you want to be part of the castle ride 2019:
1. Register for the event on Facebook.
(If you don´t have FB, don´t worry, proceed to step 2)
2. Send an e-mail to castle-ride@gmx.de with answers to below questions 
- Name, Surname (e.g. Joe Smith)
- Brand, Model and Year of your electric motorcycle (e.g. Zero 
DSR 2016)
- Battery capacity in KW (e.g. 13 KW)
- Charging capacity (e.g. 1.3 kW/h – 10kW/h)
- Destination country (e.g. Germany)
- Phone number (e.g. +491234567)
- Do you want to be included in the WhatsApp Group for this 
event? (yes / no)
- Do you want a room at the event castle? (yes / no)
Please check the room you would like to have
In the Guesthouse:
Single room (65€ per night for 1 Person) – 11 available ( )
Double room (110€ per night for 2 Persons) – 5 available ( )
In the Castle Tower:
Double room (115€ per night for 2 Persons) – 2 available ( )
All rooms incl. breakfast
Of course, you can also send additional comments or questions in your registration e-mail.
3. Wait for your official registration e-mail notice. If you have requested for a room at the castle you will also get a personalized Digicode with which you can call the hotel and hand over one of the rooms to your personal reservation.
Good, you survived reading the long text. You must be a long distance rider.
Don´t forget to check the pictures I have included to get a first impression of the castle and one of our riding goals for the first day of the event, the "Brombacher See" which is only 30 km distance from the castle.
If there are any questions left, just leave a comment in the discussion section of the event.
More updates about the event activities and the routes for day1&2 soon.
We also plan to have some practice workshops within the event. More on this later.
So don´t forget to register (3 steps above).
Ride safe and have a fantastic weekend !!!
------------------------------ Update vom 10.6.
Schön wars. Die Anfahrt war schon prima. In Ingolstadt haben wir uns aus dem Münchner Raum für eine gemeinsame Ladession getroffen und sind dann bis zum Treffpunkt durchgefahren. 
Auf der Burg war dann erst mal ein bisschen Ratsch angeaagt. Dann haben wir eine kleine Runde über dn Brombach See gedreht und aind dann wieder gemütlich zurück. 
Am nächsten Tag war dienTour ein bisschen länger. Inkl. einer gemeinsamen Ladeparty mit 11 Motorrädern. In einer Tiefgarage haben wir vorab 13 Ladepunkte ausgemacht. Bis dann aber jeder sein Kabel eingesteckt hat (Adapter, Ladegerät...) hats zwar gedauert, aber nach einer Stunde waren alle soweit, die zweite Hälfte der Tour anzutreten.
Als sich unsere Wege dann wieder getrennt haben, sah es schon sehr nach Regen aus und die ersten Tropfen fielen schon. Also rein in die Regenklamotten... Aber es hielt bis zu unserem Ladestopp in einem Ingolstädter Parkhaus. Eine gute Wahl. Wir hatten gerade angesteckt, da gewitterte es auch schon los. Zu unserem Glück war direkt am Parkhaus ein Pizzadienst. Also konnten wir trocken essen und laden. Als wir und die Mopeds voll waren, war das Gewitter vorbei und wir sind weiter trocken heimgefahren. Glück muss man haben :-).